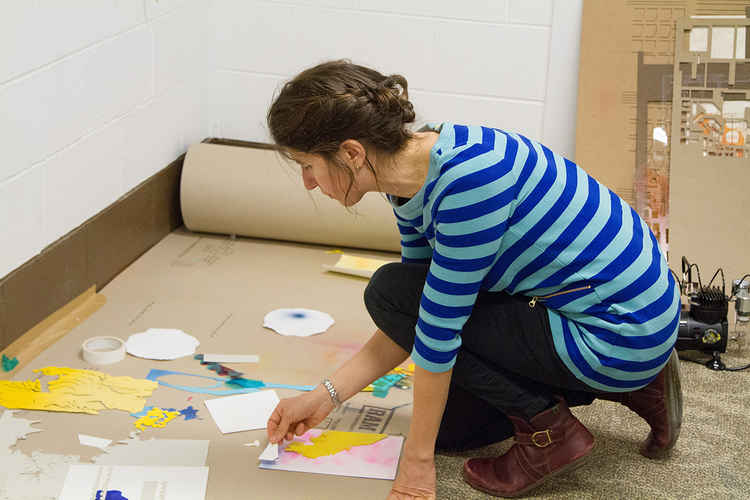 My work explores the experiences of inhabiting spaces and landscapes, whether the built environment or the natural world. I take inspiration from source material ranging from maps of the cosmos, aerial photographs, memories of places I have lived, landscape plans, light filtering through windows, interestingly-shaped shadows, unusual architectural fragments, and views of the earth through the window of an airplane as it inches toward the ground. Recent work explores the visual languages used around the world to communicate in the landscape, from national flags to traffic signals to garden and landscape designs from across cultures. Whether a large-scale mural, a painting on laser-etched panel small enough to hold in one's hand, or a dynamic mixed-media collage, all of the work returns to the landscape and the people who inhabit it.
My process is wide and varied, including traditional drawing and painting, airbrush, laser-cutting, CNC-routing, and collage. Through twenty years as a practicing artist, I have accumulated a visual language of shapes, forms, colors, and motifs drawn from both the landscape and built environment. Last year's drawings are laser-cut into this year's collage forms, which might be cut out of metal and airbrushed or used as stencils for paintings. My studio is full of remnants, cast-offs, leftovers, and new materials waiting to be transformed into something new. This process of continual repurposing and rethinking creates a bright thread that ties the work—whether an immersive installation or a work on paper—indelibly together.
///////////////////////////////////////////
Ann Tarantino is an artist working across drawing, painting, installation, and site-specific works of public art. Her work has been exhibited widely in the US and overseas, and has appeared in settings ranging from museums and galleries to botanical gardens and city streets. Recent exhibitions and projects include Cloud Countries, a new installation created for the Pittsburgh International Airport; Watermark, a major public commission for the community of Millvale, PA; and Razzle Dazzle, a 400-foot-long painting installation running beneath the Brooklyn Bridge, commissioned by the New York City Metropolitan Transit Authority.
She was featured in New American Paintings in 2005 and 2007, and was a 2016-17 recipient of a Fulbright Core Scholar Award for artistic practice in Brazil. While in Brazil, she developed a new body of works on paper and panel exploring the colors and textures of the Brazilian landscape. Tarantino earned an honors degree in Visual Arts from Brown University and a Master of Fine Arts with a concentration in Painting from The Pennsylvania State University.